Sweet Crêpes
Our sweet crêpes are made with 100% organic wheat flour, organic full cream milk, free range eggs, vanilla bean & brown sugar. All ingredients are based on seasonality and are locally & ethically sourced
Sweet Crêpes Menu (GST incl)
Nana's Lemon – Freshly squeezed lemon, butter & raw sugar $9
Sticky Maple – 100% pure organic maple syrup $9
Cinnamon Spice – Cinnamon, butter & raw sugar $9
Simply Chocolate – Homemade choc-hazelnut spread $11
Fruit Fusion – Fresh strawberries & banana with a choice of homemade chocolate hazelnut spread OR butter, sugar & cinnamon $12
Pear Party – Warm poached pear cooked in cinnamon, berry spices,ginger,cloves,vanilla bean and brown sugar $12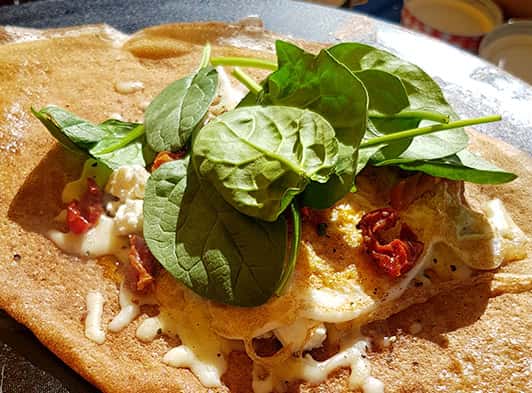 Savoury Galettes
Our savoury galettes are made with 100% organic, gluten free buckwheat flour, organic full cream milk &  free range eggs. Ingredients are based on seasonality and are locally & ethically sourced.
Savoury Galettes Menu (GST incl)
Pumpkin Party – Roast pumpkin with rosemary & thyme, cheddar, feta, baby spinach and creamy mustard sauce ($13)
Mediterranean – Sundried tomatoes, olives, baby spinach, mozzarella, feta & homemade pesto ($13)
Funki Fungi – Sautéed mushrooms with thyme, cheddar, feta and baby spinach  ($13)
Gourmet Breakfast – Free range egg, baby spinach, cheddar, feta & tomato relish ($13)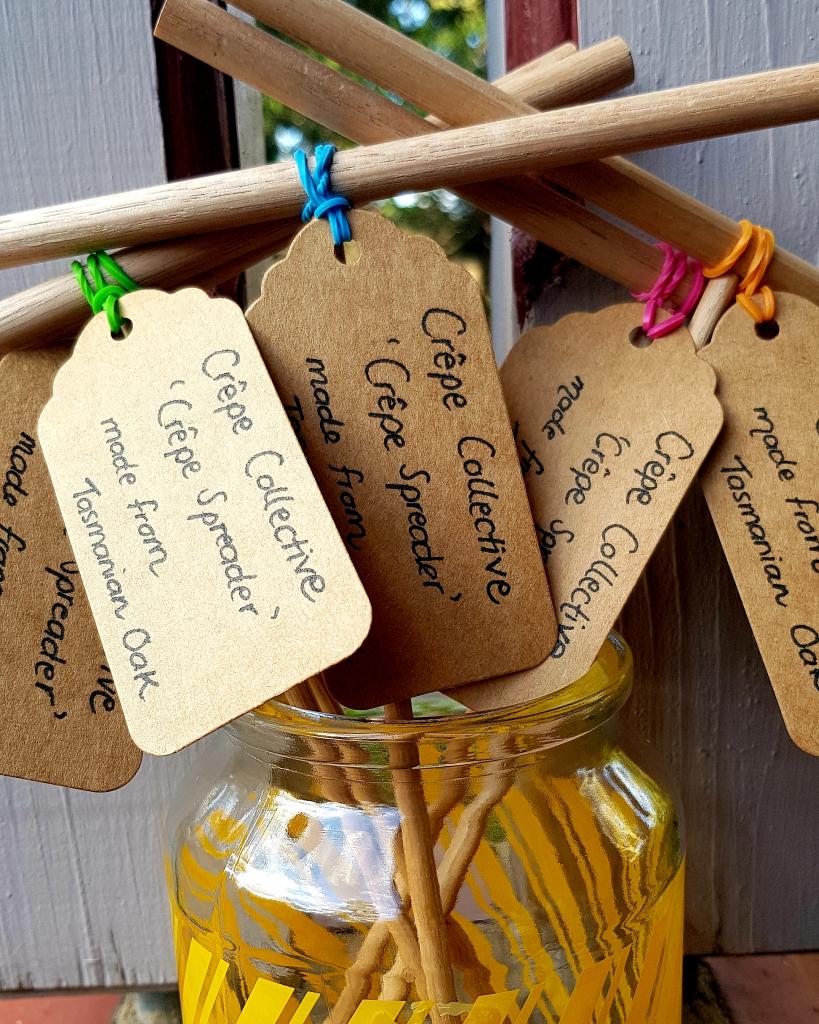 Wooden Crepe Spreaders
Our Wooden Crepe Spreaders are custom made from Tasmanian Oak. They are 22cms in length with a 23cm handle. Ideal for commercial crepe makers or in the home kitchen. Guaranteed to make the perfect crepes every time.
purchase via ebay